WEIRD WONDERFUL LIFE – Every Tuesday 6:30 PM
Very interesting talk about the strange and incredible habits of waterlife
THE SECRET LIFE OF MANTA RAYS – Every Thursday 6:30 PM
Inspiring talk about your favorite animal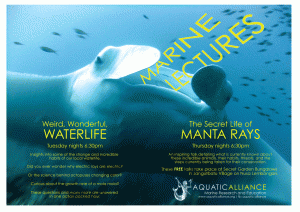 FREE Entrance
Takes place at Secret Garden Bungalows, Jungutbatu
Marine Megafauna Foundation
The Marine Megafaunafauna Foundation (MMF) was created in 2009 in Mozambique to research, protect and conserve the large populations of rays, turtles, whale sharks and marine mammals found on the Mozambican coastline.
In the waters around Nusa Lembongan, Ceningan and Penida the same marine giants can be found – Mantas at Manta Point or the Sunfish in Crystal Bay, dolphins cruising past the islands or turtles peacefully gliding by just behind the famous surf breaks of Nusa Lembongan. While those animals are major tourist attractions they are under great human pressure, as humans are responsible for inadequate behaviour when diving or snorkelling, polluted waters, damaged reefs and overfishing among other causes.
Also, in South East Asia thousands of manta rays have been killed for their gill rakers which are sold in the traditional medicine markets, even though the rakers have no proven health benefit.
The MMF is engaged in habitat protection, sustainable tourism, community development and international conservation building – they're a multifunctional organisation working with different methods to preserve marine life for future generations.
One of MMF's bases in South East Asia is in Nusa Lembongan. MMF's mission in south-east asia is saving ocean giants from extinction in the world's highest marine biodiversity region – the Coral Triangle spanning from Indonesia up north to the Philippines and west to the Solomon Island.
MMF's work in Lembongan is aimed at creating awareness amongst tourists and locals, as well as researching and cataloguing the population of manta rays and whale sharks and their behaviour around the islands. Very little is still known about these marine giants and scientists worldwide are dedicated to the research of mantas and whale sharks. As a result of the research done it has been found that the populations of all large marine animals (marine megafauna) are rapidly decreasing, which will lead to their extinction in the near future if we don't start to take action.
MMF's work in Indonesia includes assessing the water quality at manta ray feeding sites as well as including each individual manta ray that is sighted into the MantaMatcher – a website where everyone who has pictures of manta rays can upload them and thus help scientist catalogue and register new individuals sighted worldwide. It's the first online database for manta rays worldwide.
A similar website exists for the cataloguing of whale sharks.
MMF also organizes beach cleanups together with locals and tourists and they visit local schools where they give workshops to raise awareness about plastic pollution in our oceans and how to reduce our plastic consumption on a daily basis.
Twice a week you can go to free multimedia talks in Lembongan where MMF volunteers share insights into local marine life and the work of MMF. Those highly entertaining and informative talks take place every Tuesday at 6.30 pm and on Thursdays at 6.00 pm in the Yoga Shack of the Secret Garden Bungalows Resort.
Also in the Yoga Shack every Sunday you can go watch a documentary touching on the topic of Man & Ocean.